ACTIVITIES AND EVENTS
The most recent activities and events are listed on this page. For a complete list of activities and events refer yearly reports at the end of the page.
Ideathon
Greetings from IEDC, Christ College of Engineering!
Happy to announce that IEDC_CCE is the regional level host for IDEATHON.
Ideathon is an opportunity for student innovators with potential and creativity to be a part of technology-fueled innovations. It presents a competitive model to showcase original thinking and problem-solving aptitude that address global issues related to education, healthcare, water conservation, environment, sustainability, etc. The challenge enables qualifiers of ideathon to get grants/internships/mentoring support, etc.
Who can take part?
● Top 3 winners of institutional level ideathon can be nominated to the regional level
● Team of maximum 5 members.
January 4 & 5, 2022
Online Mode
Ideathon Structure
● The final evaluation will have 2 sections with a total time frame of 10 mins. The presentation and the Q&A session.
● The presentation will be for a duration of 5 mins using a ppt or video and the Q & A will be for 5 mins.
Do complete your team registrations here
For further queries, contact:-
Thomas Siby - +91 85478 86720
Steve Austin - +91 94004 35700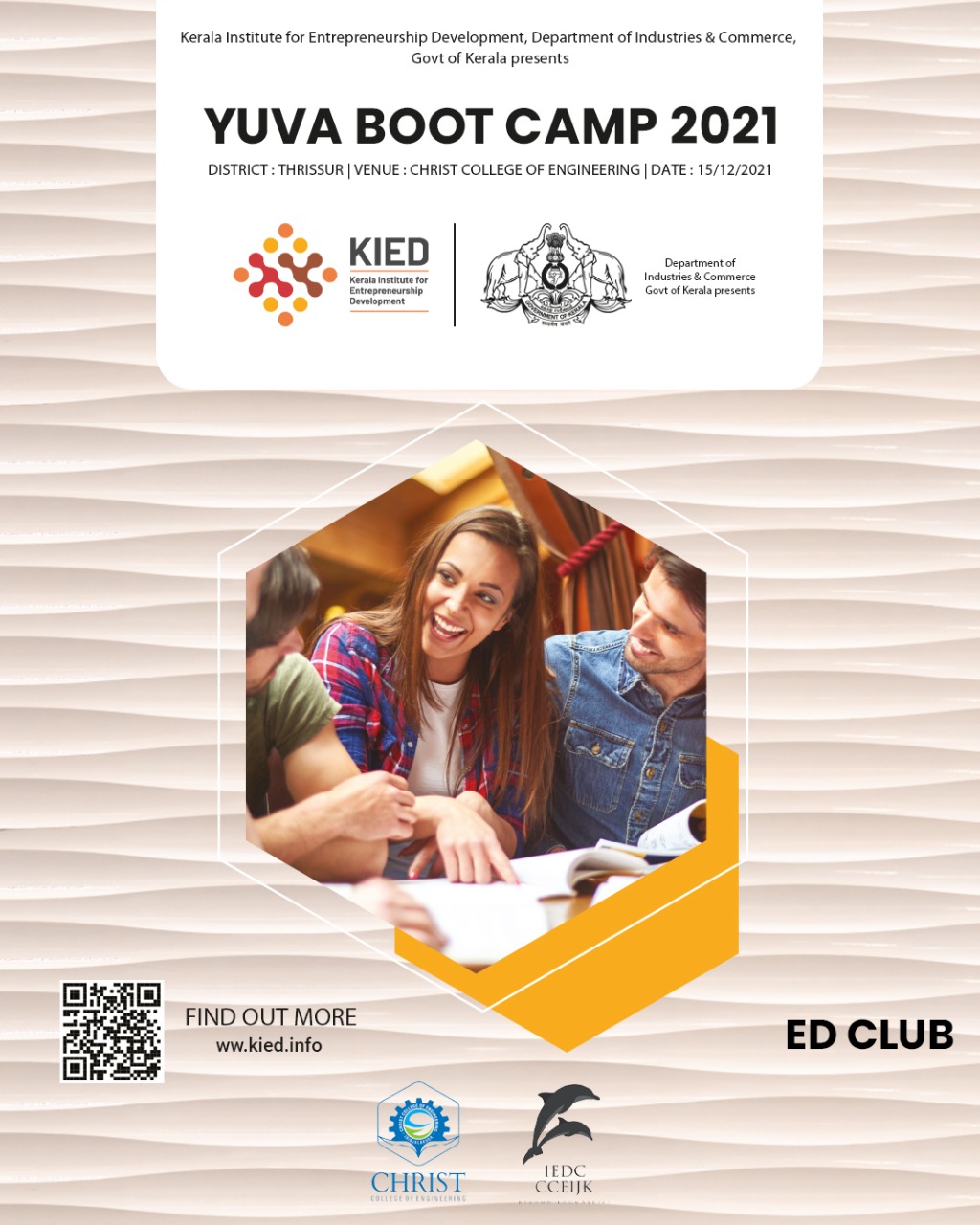 Yuva Boot Camp
IEDC CCE in association with Kerala Institute for Entrepreneurship Development, Department of Industries and Commerce,Govt.of Kerala presents:
YUVA BOOT CAMP 2021
It was a 2 day boot camp at district level based on business model canvas followed by idea pitching, to create awareness about entrepreneurship and start up in college students and youth. 30 selected teams at district level will be provided mentorship sessions for 4 days followed by final idea pitch at State level.
DATES :- 15,16 December 2021
Benefits for students:-
Cash prize of Rs.10,000/-each for 10 teams
Certificate of appreciation for 30 State level participant teams
E-Certificate of participation for district level teams
Mentorship support
LIFEATHON Season 2
IEDC team of Christ College of Engineering, Irinjalakuda organised an Inaugural ceremony of Lifeathon season 2 on September 15 in presence of Mr. Muhammed Riyas, Project director of Kerala startup mission and Dr. Saji Gopinath, Vice chancellor of Digital University Kerala.
The session was blessed with the presence of Fr. John Paliakara CMI , Executive Director of Christ College of Engineering. Joint Director, Fr.Joy Payyapilly, Principal Dr. Sajeev John, Vice Principal Dr. John V.D, IEDC Nodal Officer Rahul Manohar and many faculty members and around 200+ students were also present for the event.
The session brought students the opportunity to learn and understand about various startup missions and programs under the government. The session also provided information about awaiting program coming on Lifeathon season 2.
The entire event was coordinated and organised well by the IEDC team. It was a beautiful session filled with various experiences and life lessons. The students interacted actively making it a great success.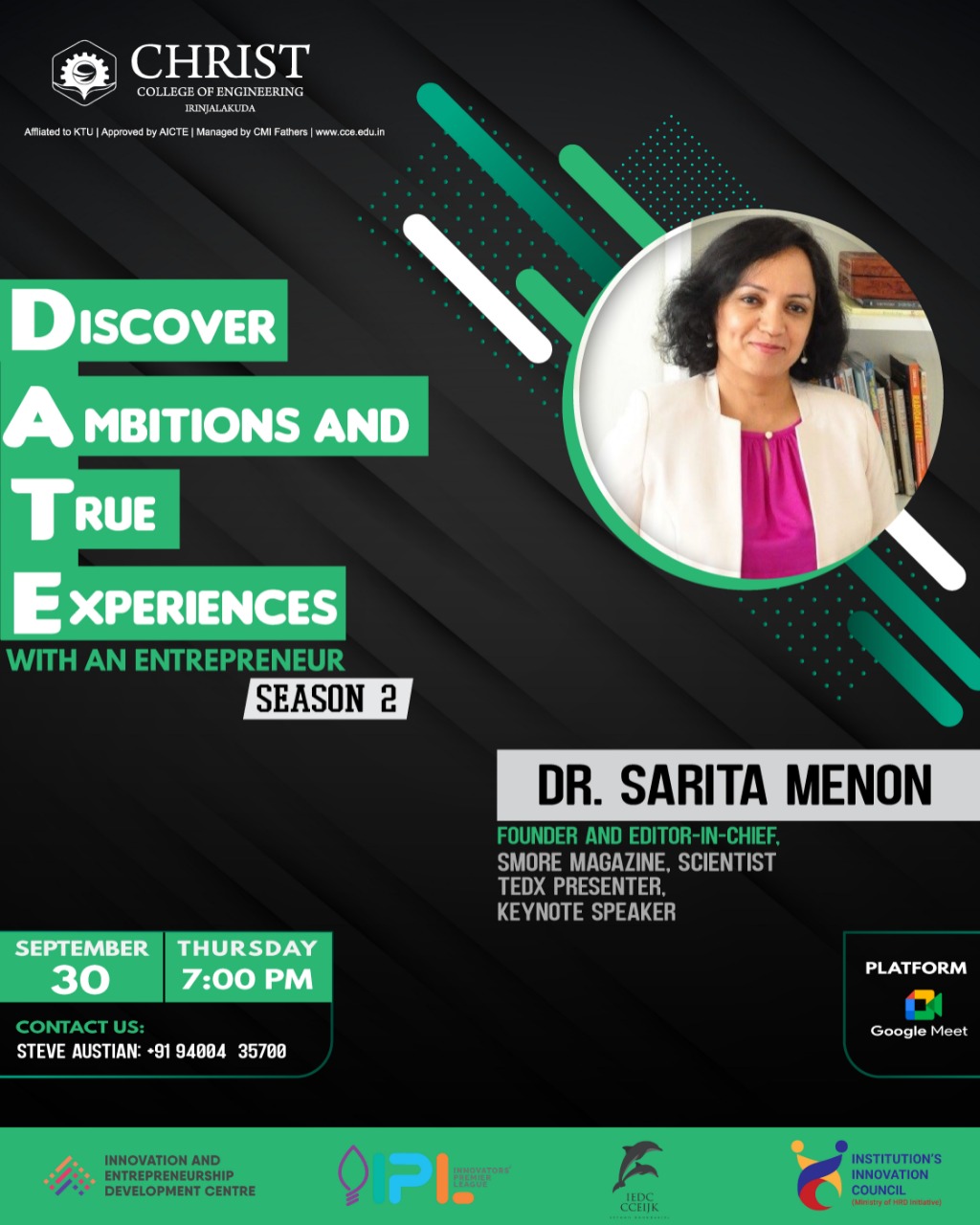 DATE Season-2 , Episode-02
Dr. Sarita Menon
Founder and Editor-in-Chief, Smore Magazine | Scientist| TEDx Presenter| Keynote Speaker.
"Instead of freaking out about these constraints, embrace them. Let them guide you. Constraints drive innovation and force focus. Instead of trying to remove them, use them to your advantage."
The second episode of season 2 DATE WITH AN ENTREPRENEUR culminated thrivingly on 30th September 2021. On this very session, Dr Saritha Menon, Award-winning life science professional and entrepreneur with 18 years of research, communications, and editorial experience in the science and education industry, A passionate advocate for better representation of women in STEM and scientific literacy incited pupils by reminiscing her campus life, insighted us with her very own publication tiers,mentored women to be a seeker and discover life purpose that achieve fulfillment to their own life.
She signalized us to be a life long learner, be different and nutty.she also added to hatch out,build connections and skills to fabricate ourselves
On the other side, more than 120 students engaged sprightly in the session and gained figures at its height. This session is in alliance with IEDC cell.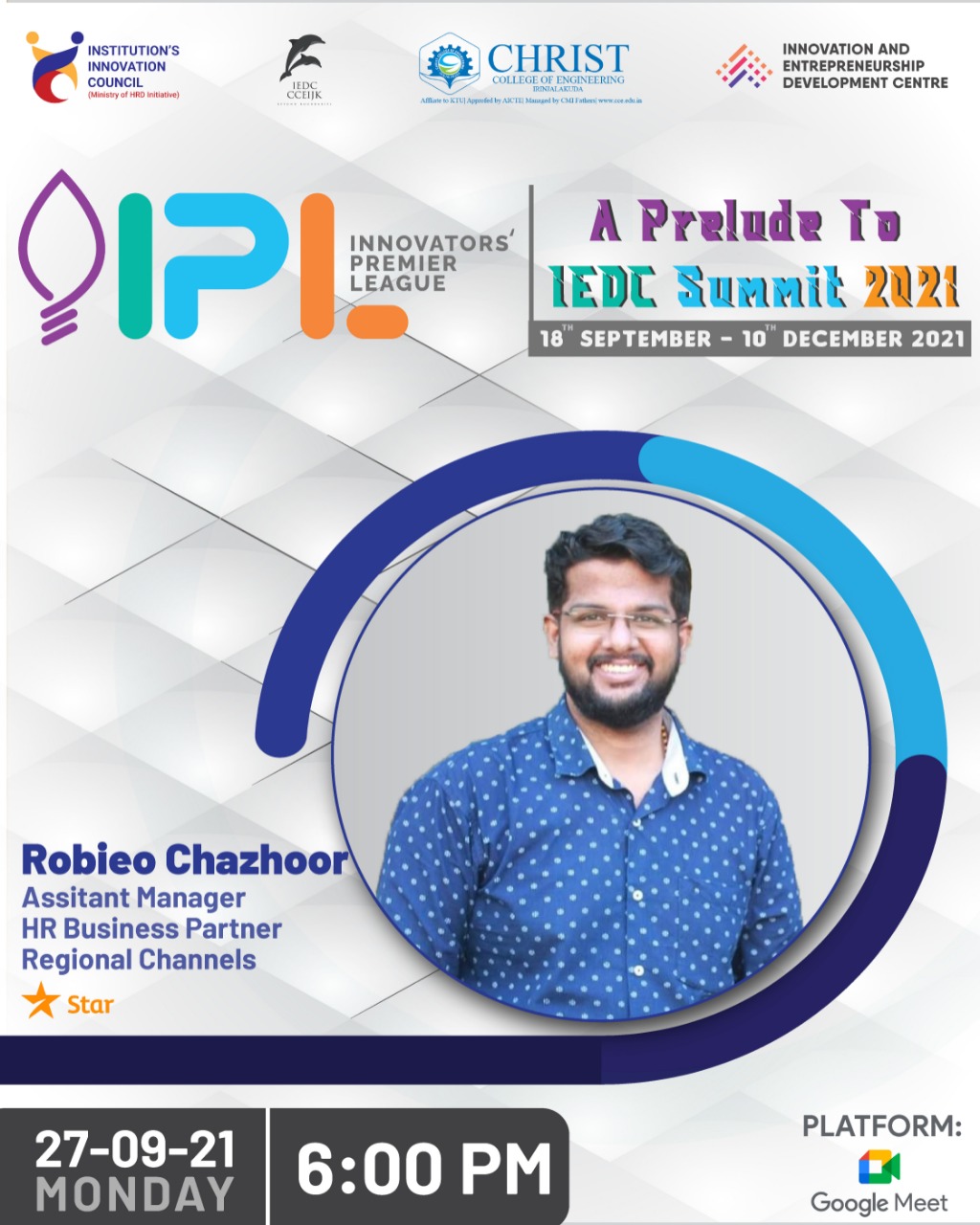 Innovators' Premier League
IEDC team of Christ College of Engineering, Irinjalakuda organised the launch of IPL ( Innovators' Premier League ) on Monday, 27th September 2021. The chief guest for the launch was Mr.Robieo R Chazhoor, Assistant Manager-HR at Star TV network.
The session was blessed with the presence of Fr. John Paliakara CMI, Executive Director of Christ College of Engineering. Joint Director, Fr.Joy Payyapilly, Principal Dr. Sajeev John, IEDC Nodal Officer Rahul Manohar and many faculty members and around 100+ students were also present in the event.
The session brought students the opportunity to learn and understand about various programs to be conducted under IPL as well as the perks and honor which will be recieved through it.
The IPL launch was followed by a film fest namely Entrepreneurial Carnival, explicitly focussed on innovation and technology. It was the movie - Tenet that was streaming for the film fest. 50+ students were present for the movie night.
The entire event was coordinated and organised well by the IEDC team. It was a wonderful session filled with insights and lessons.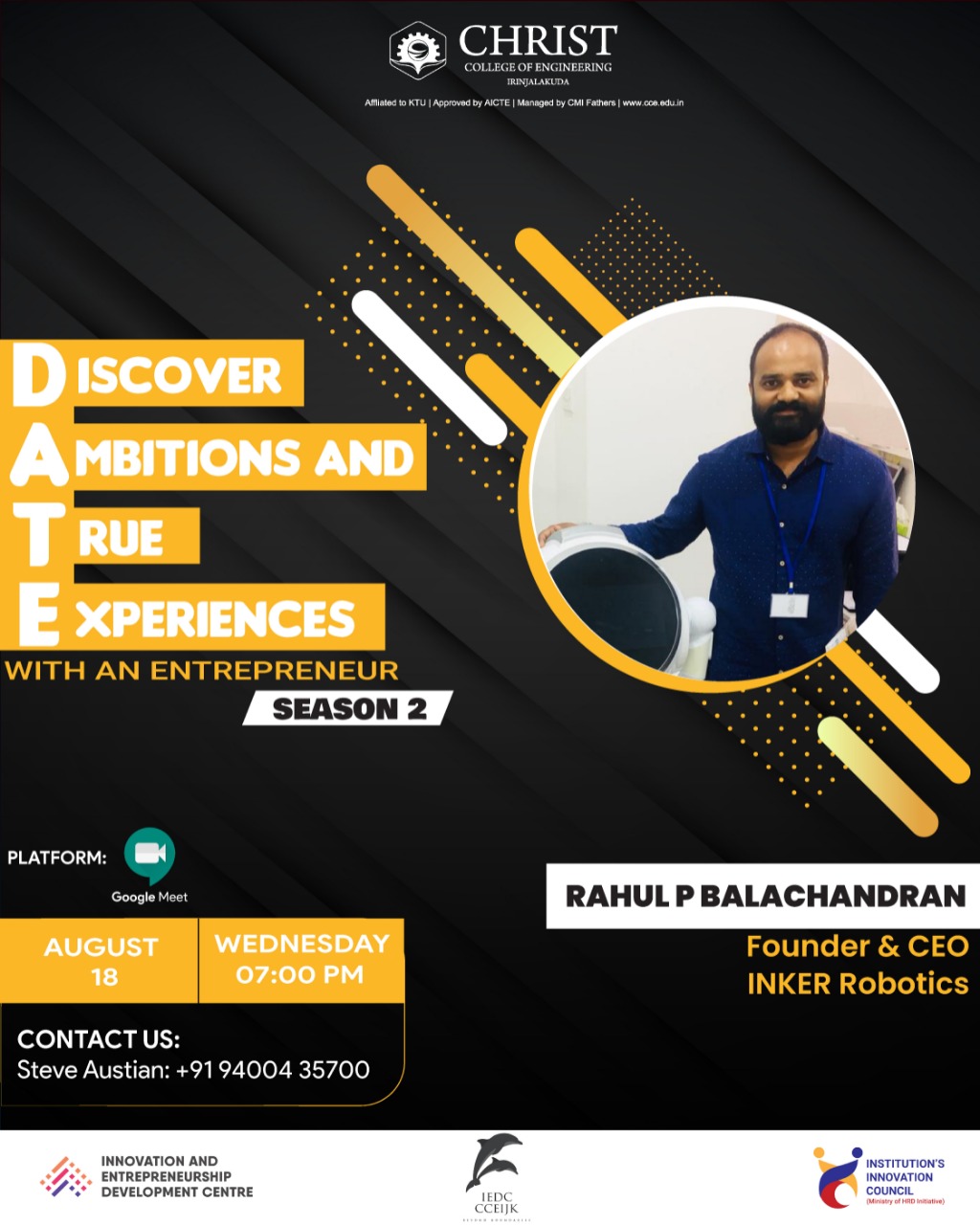 DATE Season-2 , Episode-01
Mr. Rahul P Balachandran
Founder and CEO of Inker Robotics
"Behold, the number five is at hand.Grab it and harness the power of technology."
The first episode of Season 2 "DATE WITH AN ENTREPRENEUR" attained its pinnacle on 18th August,2021.On this session, we entrusted, Mr. Rahul P Balachandran, the brainchild and visionary behind Inker Robotics. This Incredible journey called Inker is all gratitude to his percipience and ardor for emerging technologies. He has been a diehard fan of Robotics since a very young age and has selflessly dedicated himself to imparting this knowledge of the future to a generation that will metamorphose the way future workplaces evolve. He shared his fair and square experiences and took us to a profound innovative world.
Another fetching point which he shared was about the challenges we could face in an entrepreneurial journey & how to overcome all that hurdles by interacting with many successful entrepreneurs.
Around 150+ students sprightly involved in the session to attain its peak.This session is another amazing example of collaboration of IEDC cell.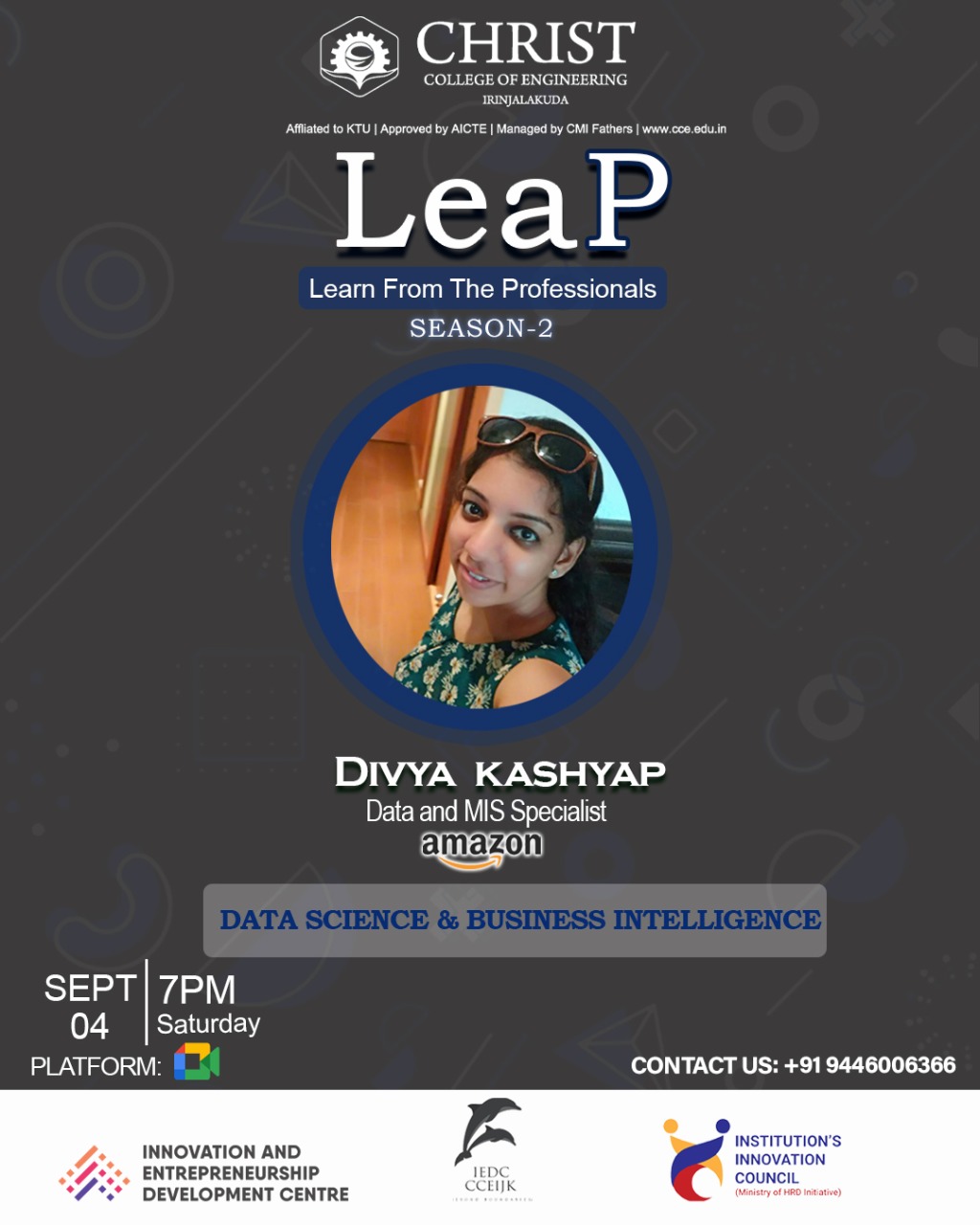 LEAP Season-2 Episode-1
Mrs. Divya Kashyap
Data and MIS specialist, Amazon
"The goal is to turn Data into information, and information into insight." ~ Carly Fiorina
LeaP, the talk show that helps us relish the taste of what it is to be a successful professional and learn paramount knowledge to become one among them, has started its 2nd season with the successful completion of its Episode 01 on 4th September 2021.
Mrs. Divya Kashyap truly took us through the in and out of what it is to be a Data and MIS specialist. Her Experiences and the various technical terminologies explained in the session about Data Science and Buisness Intelligence has been carved within the hearts of viewers who aspire to reach and climb past ranks in this field.
With 100+ audiences keenly tuned in to the vibes of the session, completion is nothing but an understatement. With further talks and experiences coming up, this session was indeed a great start.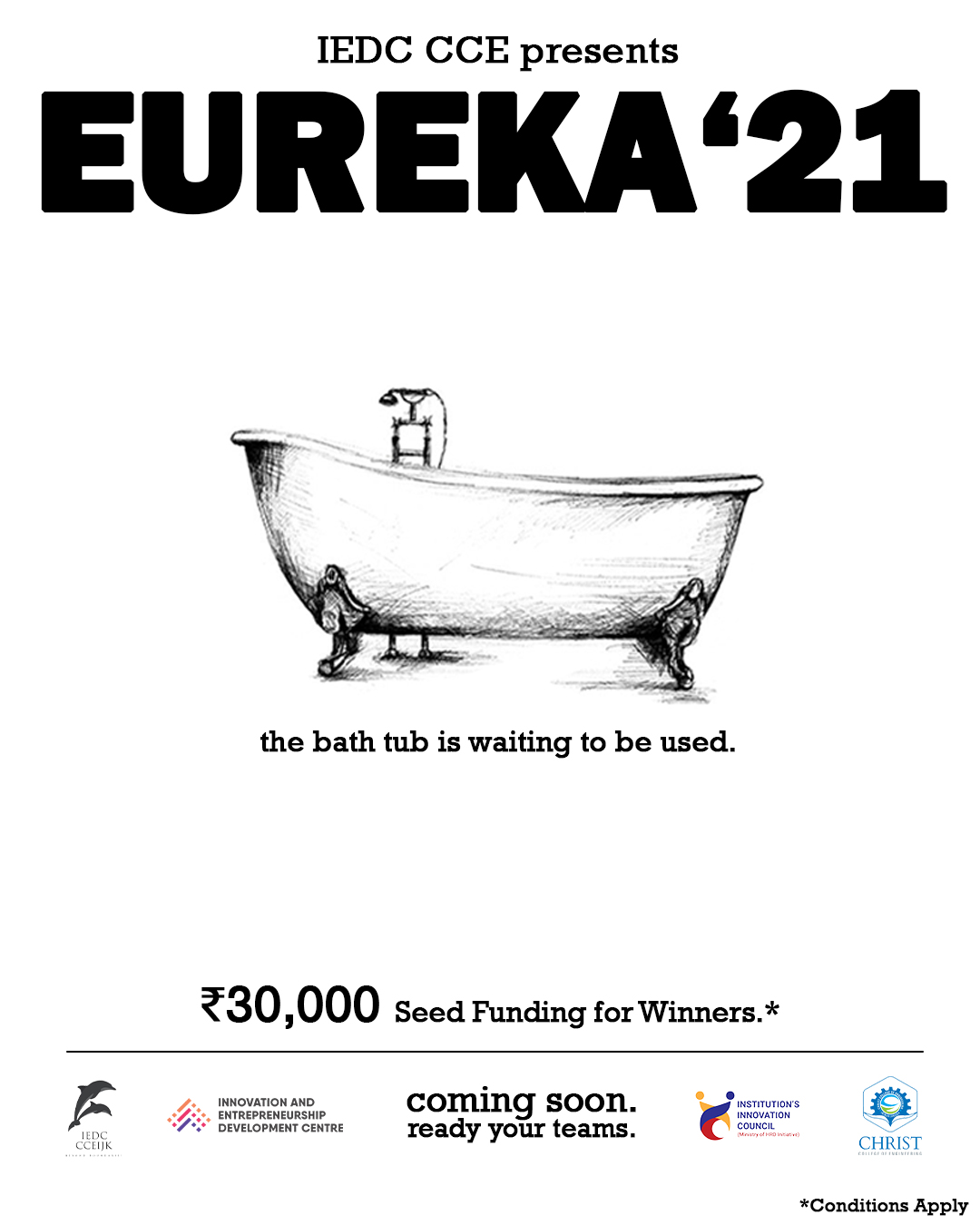 Eureka '21
Be ready with your wonderful ideas!
We are back with our Idea pitching competition.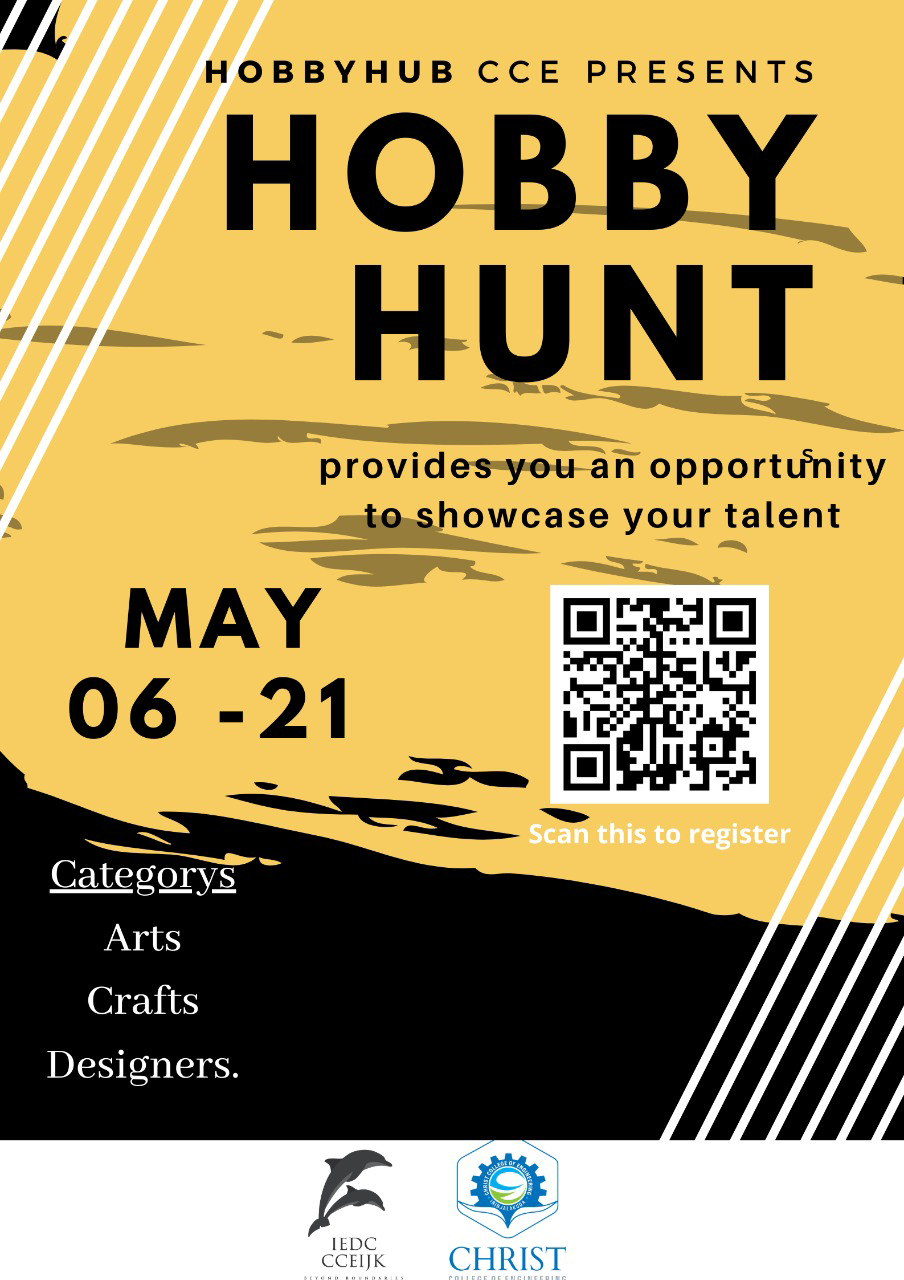 HOBBY HUNT- 2021
Hobby Hub has come up with an exciting event " HOBBY HUNT- 2021 " to promote your artistic abilities and skillsets. We will provide you a list of hobbies and you just complete the below 3 steps:
1)Register yourself for the event.
2)Choose your interest.
3)Show up your skills and send a video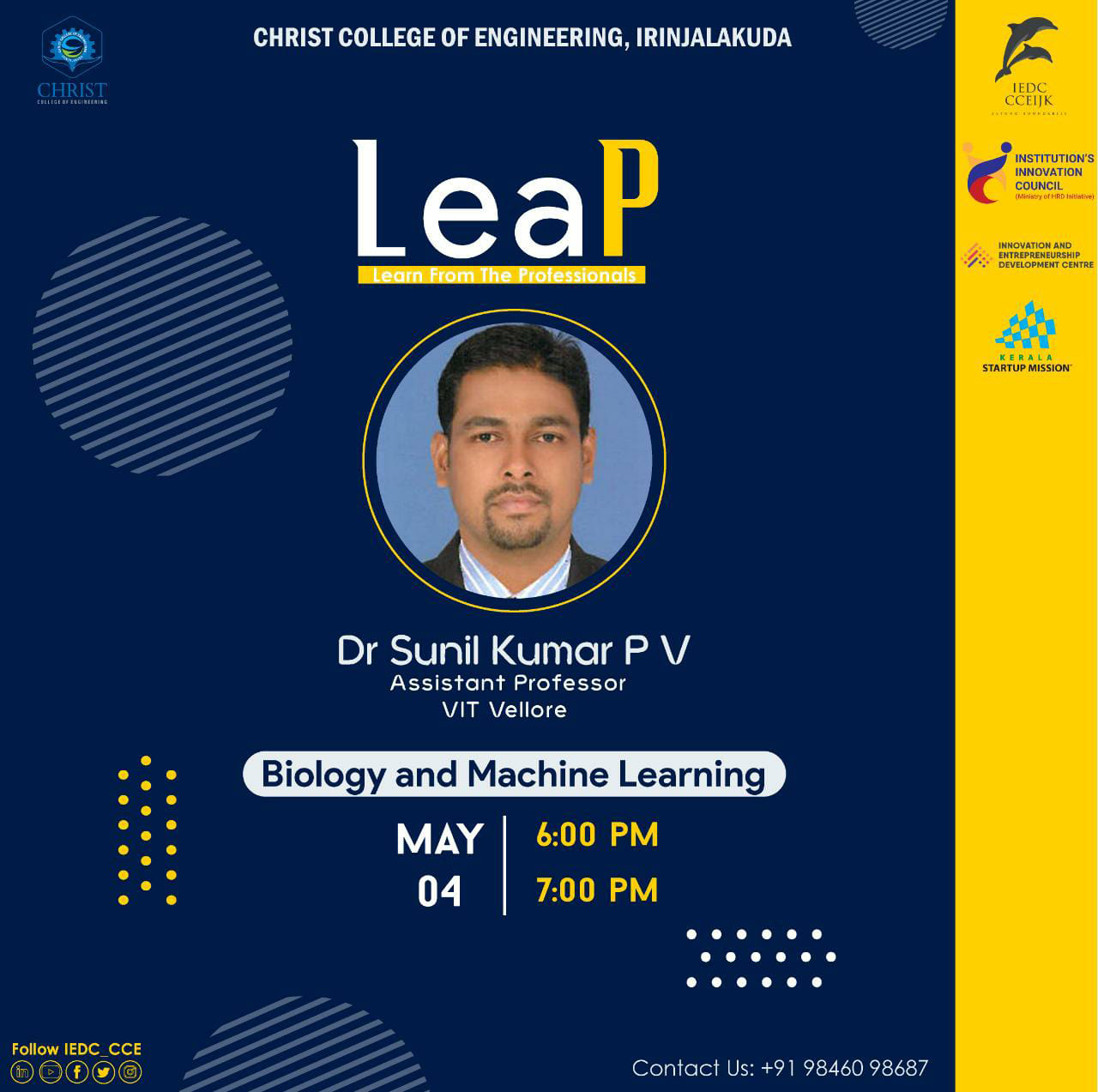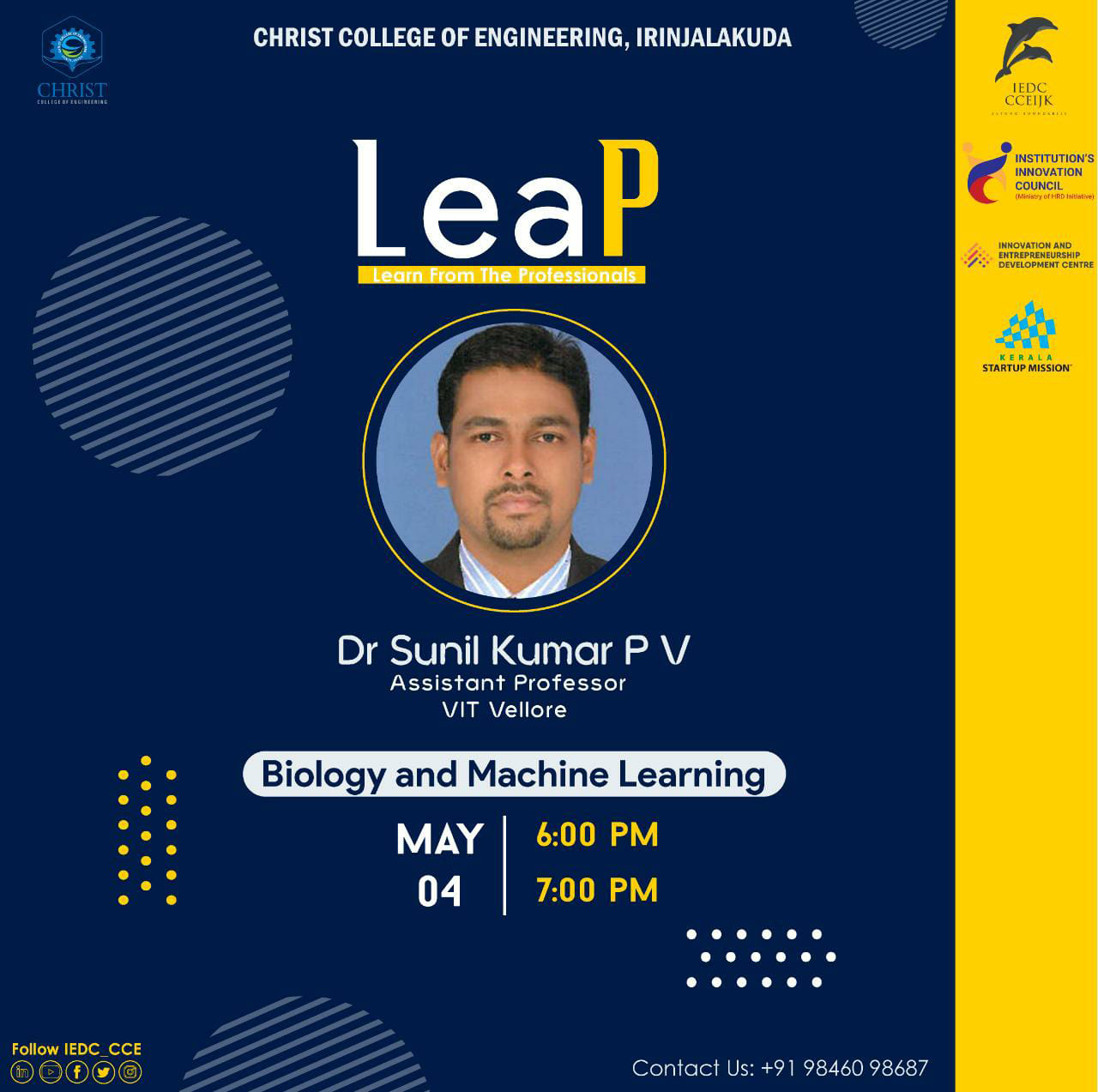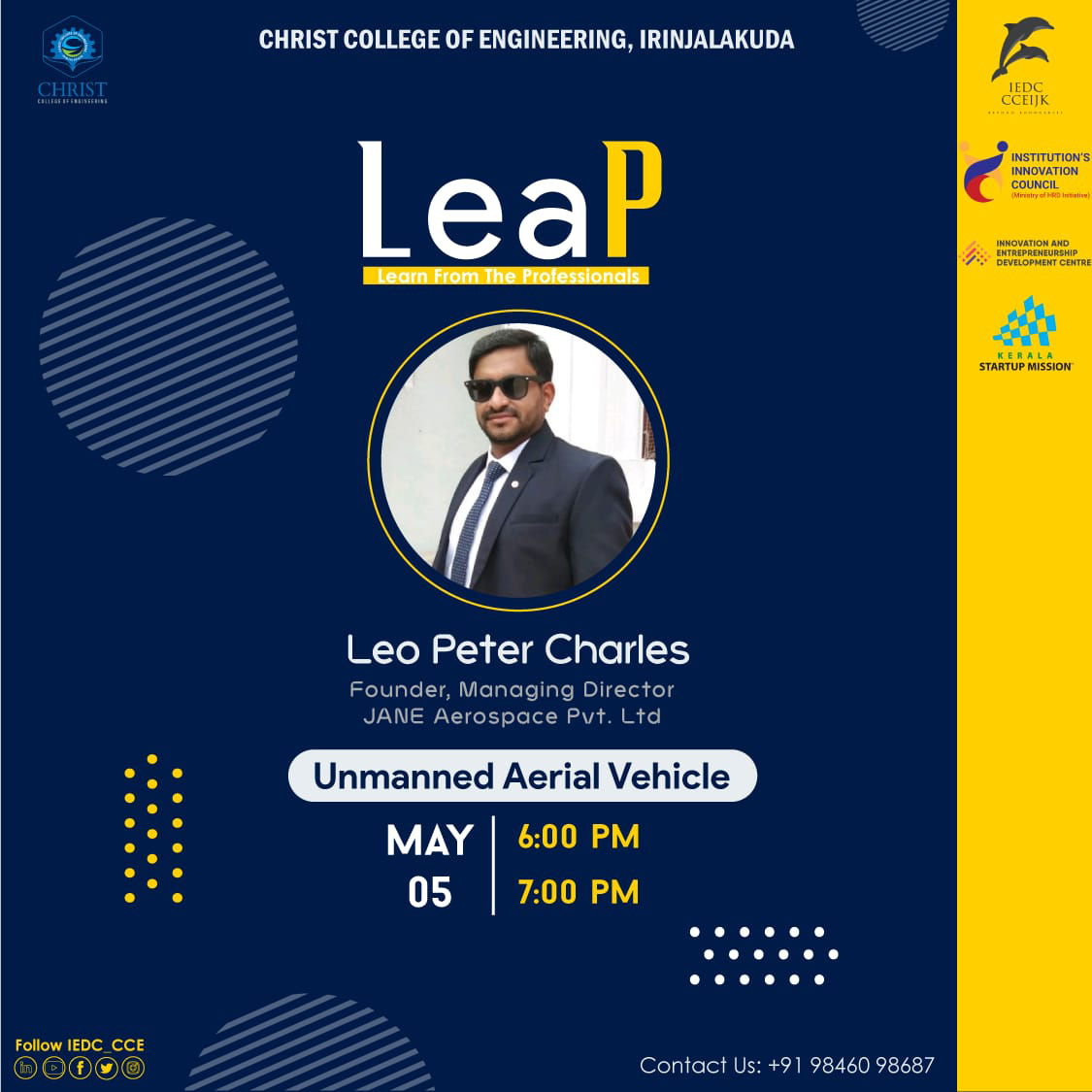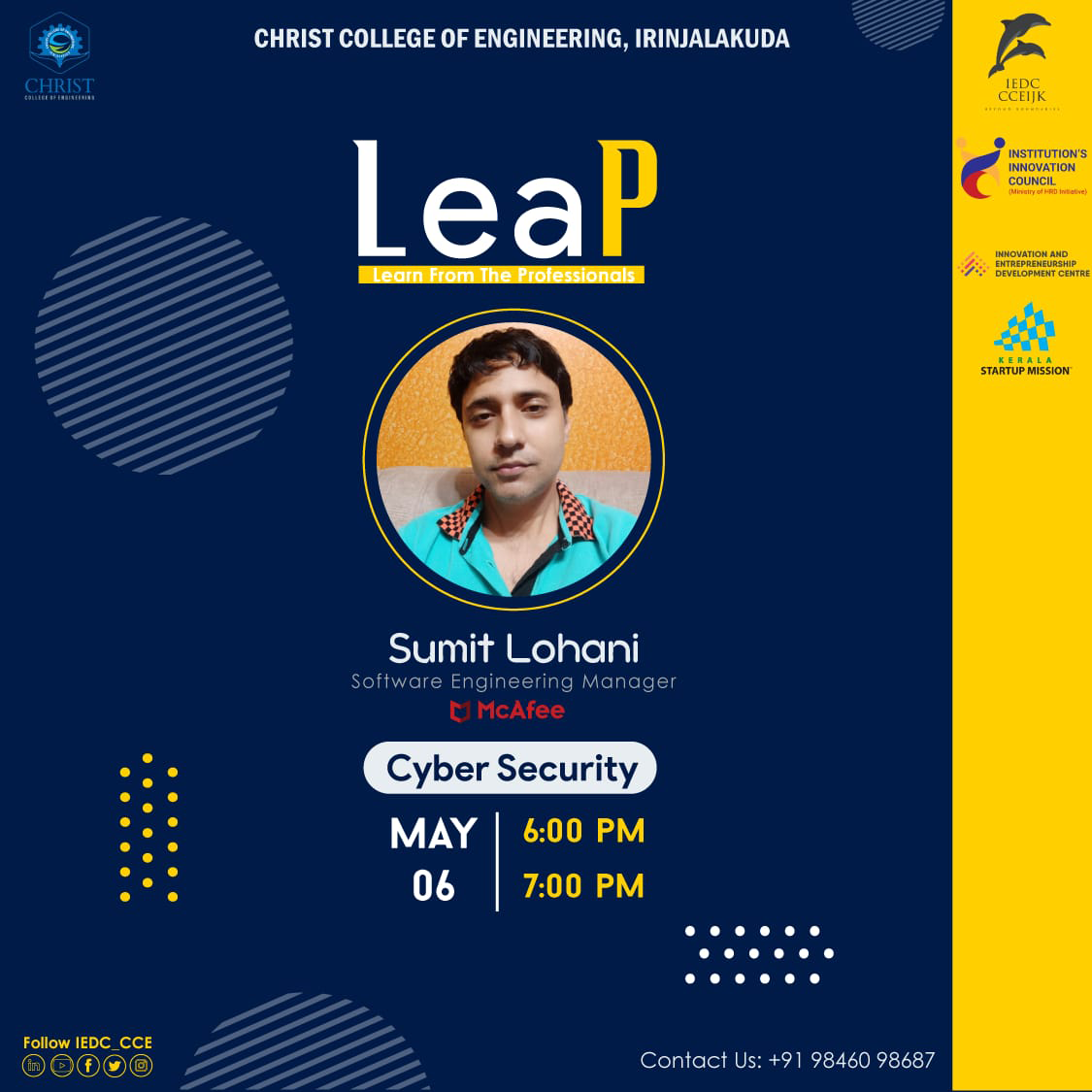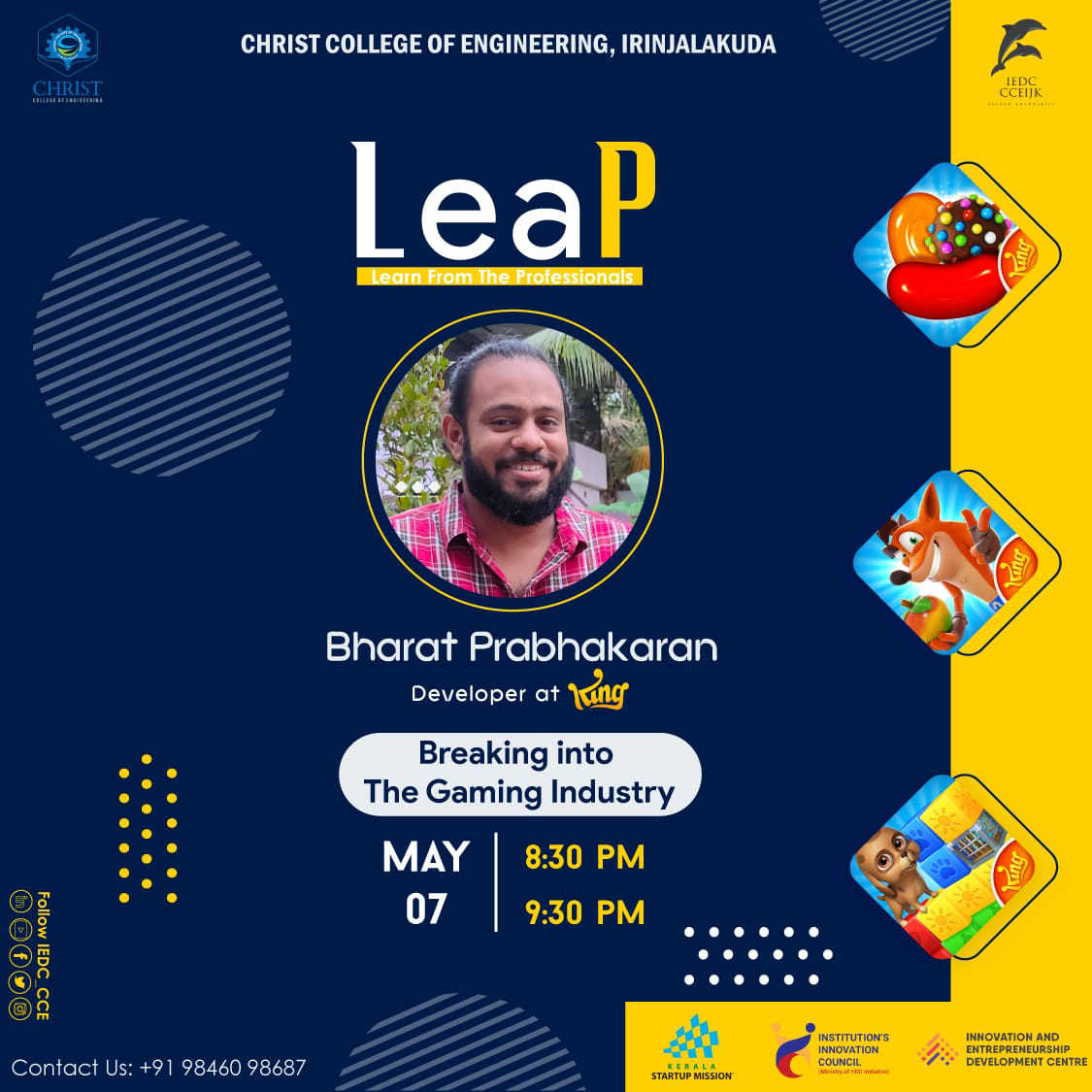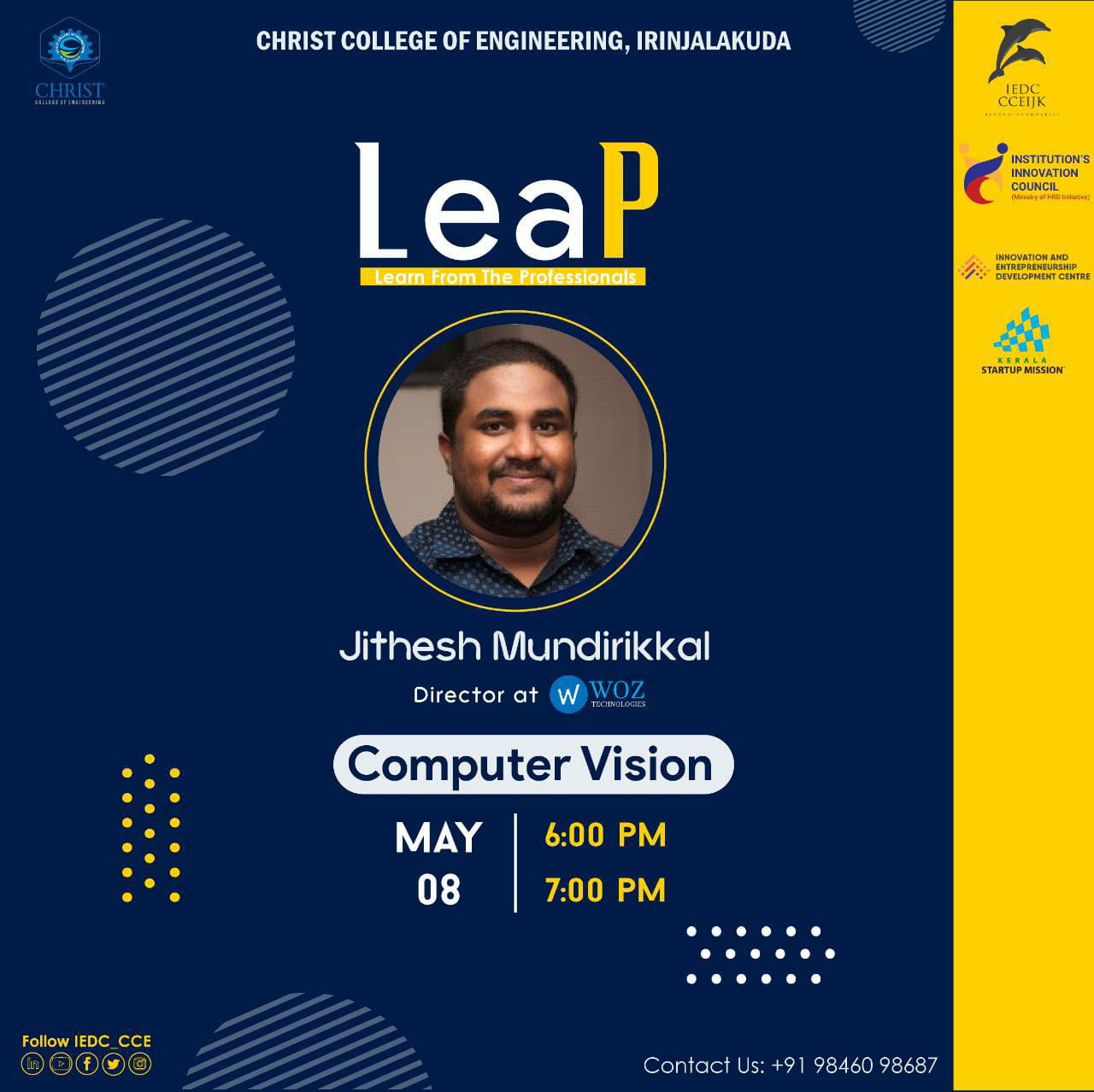 LeaP - Learn from Professionals
An Exclusive workshop will be organized on the most challenging future technology relevant to the suggestions of the participants.
Date- Tuesday, 04 May 2021.
Platform- Google Meet
Session: Biology and Machine Learning: The perfect blend
Handled by: Dr. Sunil Kumar P V, VIT, Vellore.

Date- Wednesday, 05 May 2021.
Platform- Google Meet
Session: Unmanned Aerial Vehicle
Handled by: Leo Peter Charles
Founder and Managing Director, Jane Aerospace Pvt. Ltd.

Date- Thursday, 06 May 2021.
Platform- Google Meet
Session: Cyber Security
Handled by: Sumit Lohani
Software Engineering Manager, McAfee.

Date- Friday, 07 May 2021.
Platform- Google Meet
Session: Game development
Handled by: Bharath Prabhakaran, King digital entertainment (Developers of Candy Crush)


Date- Saturday, 08 May 2021.
Platform- Google Meet
Session: Computer vision Handled by: Jithesh Mundirikkal Director of Woz Technologies.
Register Here Watch Live on Youtube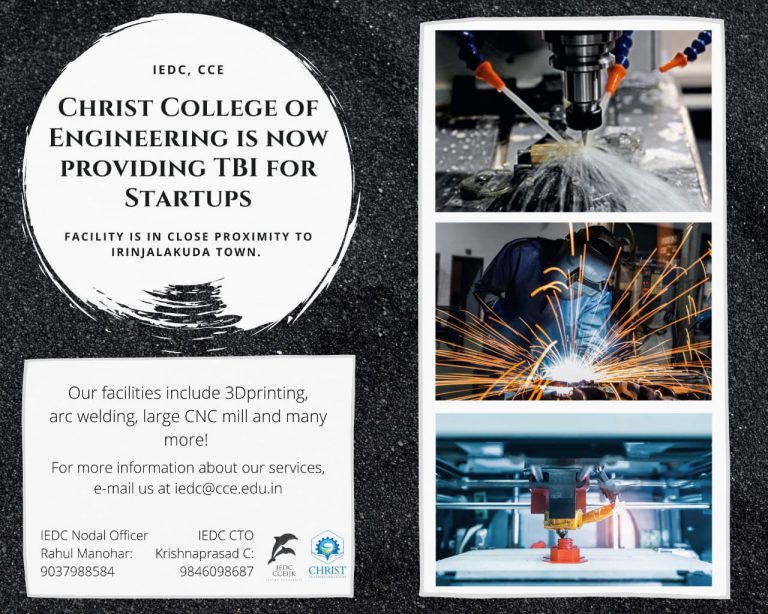 Technical Business Incubator

Christ College of Engineering is gearing up to promote local entrepreneurs and innovative students by providing Technology Business Incubator (TBI) in the campus.TBI is a platform to establish the academia-industry relationship. This idea benefits and unites both entrepreneurs and students.

The college is willing to extend their full support by permitting the usage of facilities in college such as the 3D printer, CNC machine and various other labs. In additions to this, 24 hours unlimited internet facility and power supply are made available for the startups in the TBI.

The college is located close to Irinjalakuda town which makes it appropriate for the startups to anchor their venture. Those who wish to be a part of this program led by the College IEDC Cell shall contact the Nodal Officer, Mr Rahul Manohar O.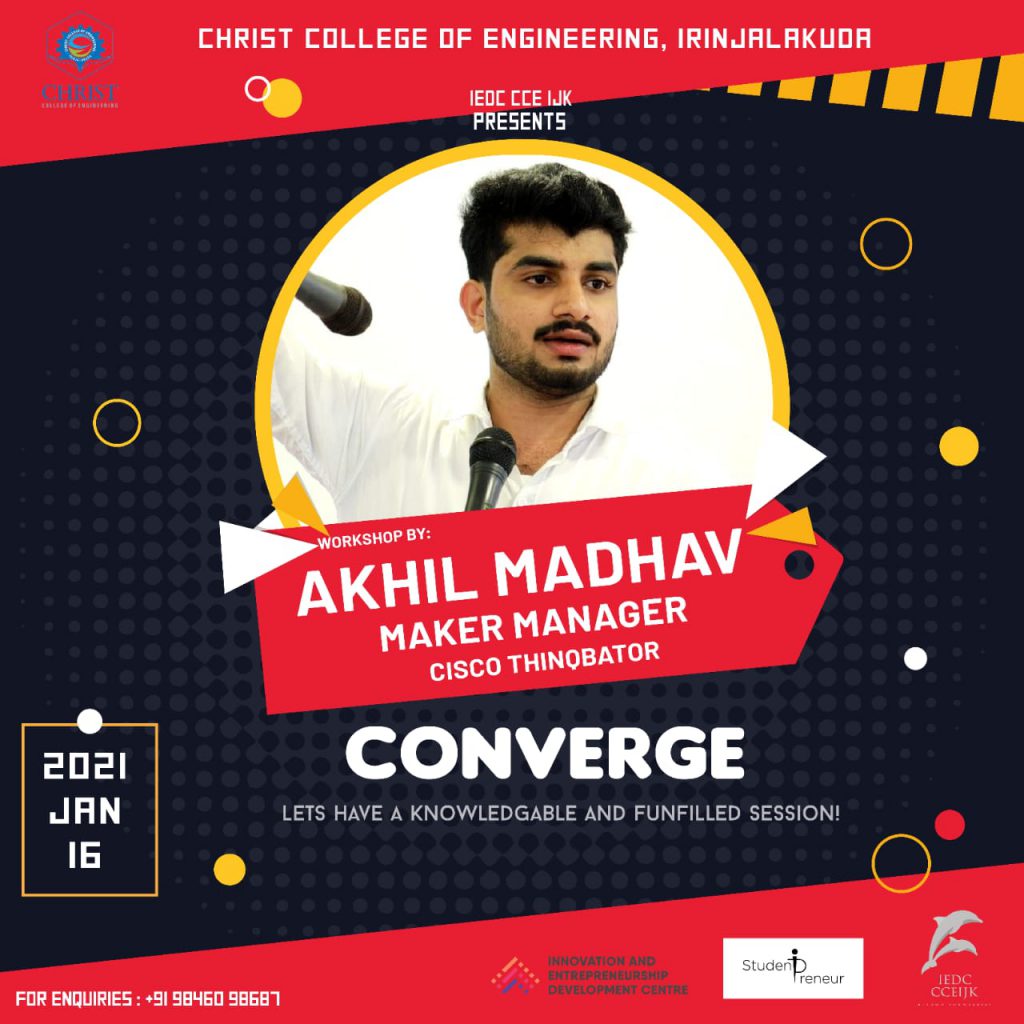 Converge is an exciting and illuminating event, hosted to enlighten the activities,ventures and pursuit of IEDC CCE, for the first year students, as an introduction to entrepreneurial culture.

This edifying and exhilarating session will take you through the undertakings of IEDC CCE and acquaint you to it's functioning.
In addition to that , there was a Session by Akhil Madhav, the Maker Manager of Cisco Thinqbator.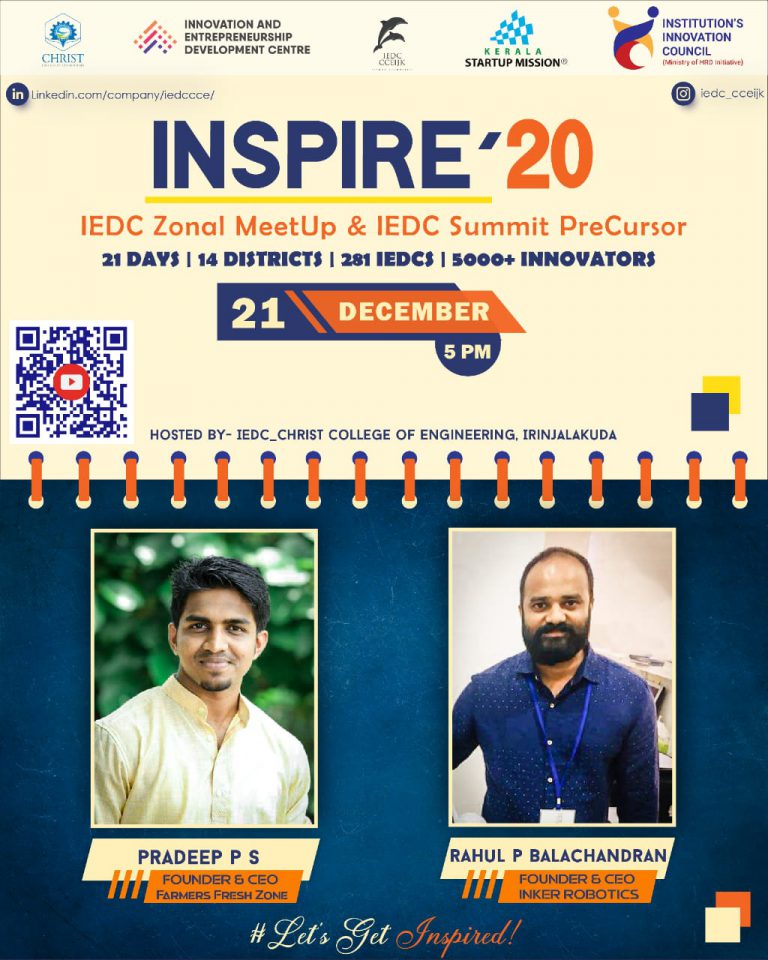 Inspire 2020 organized by KSUM, aims to strengthen the creative and entrepreneurial side of each student and transform them into budding entrepreneurs. Students got an opportunity to attend an interactive session on Entrepreneurs and Innovators with two eminent and successful entrepreneurs: Pradeep PS, Founder and CEO of Farmers Fresh Zone and Rahul P Balachandran, Founder and CEO of Inker Robotics.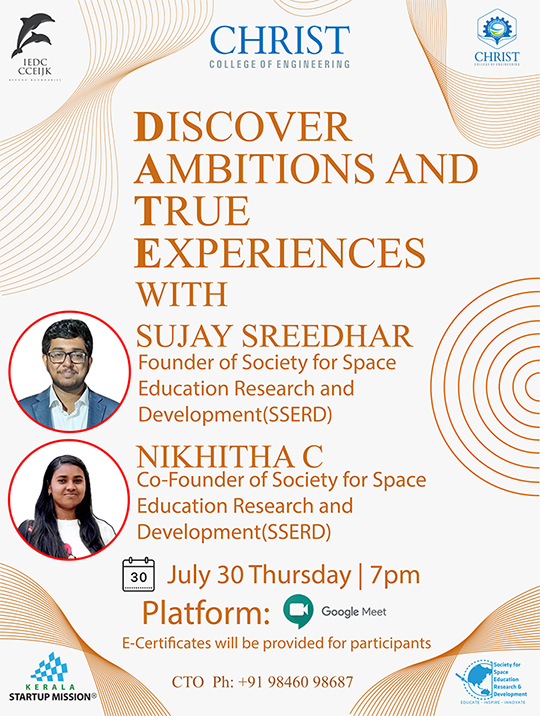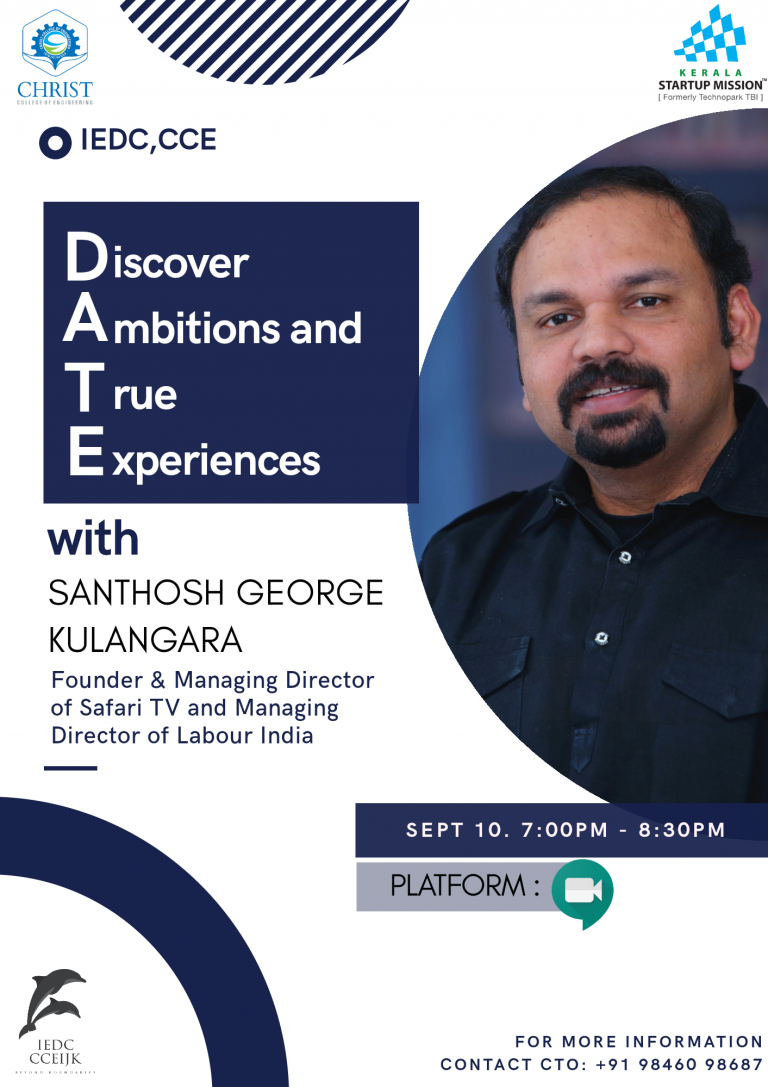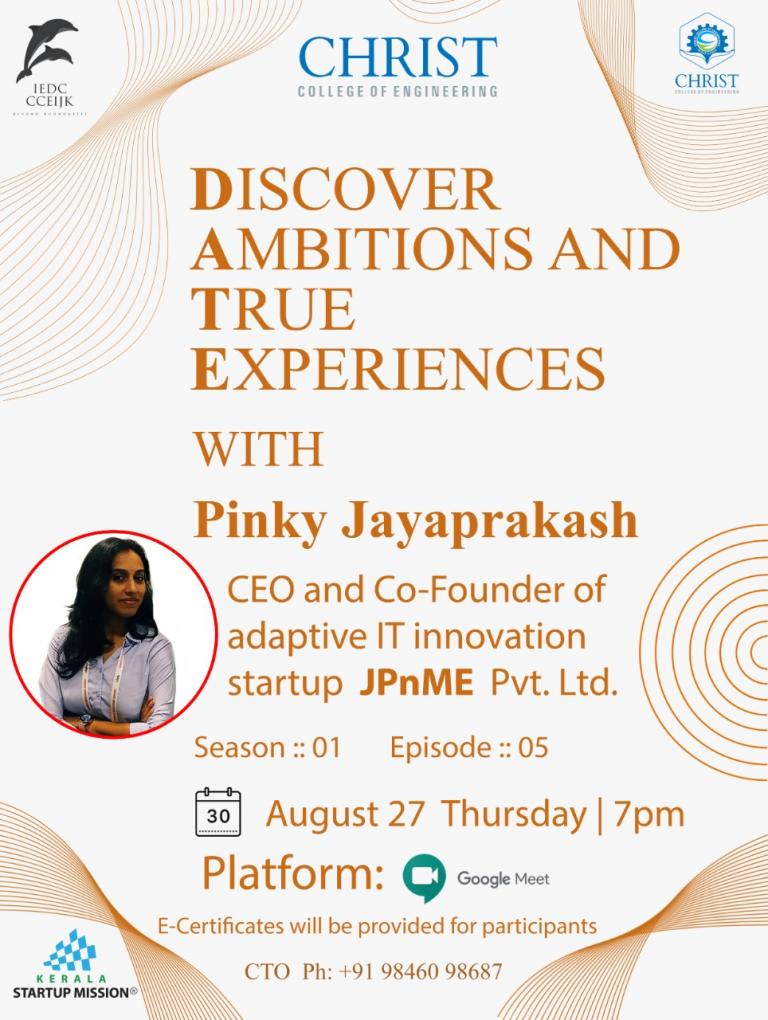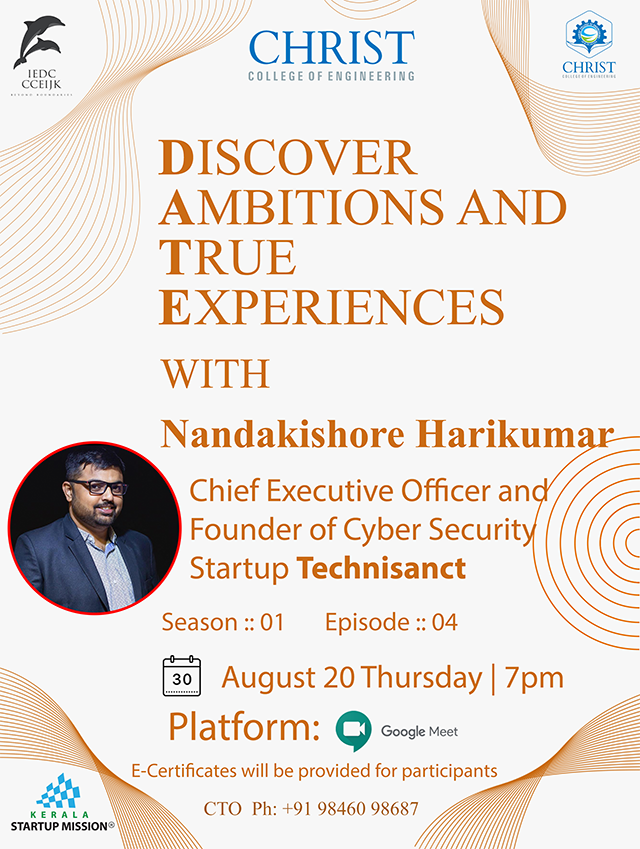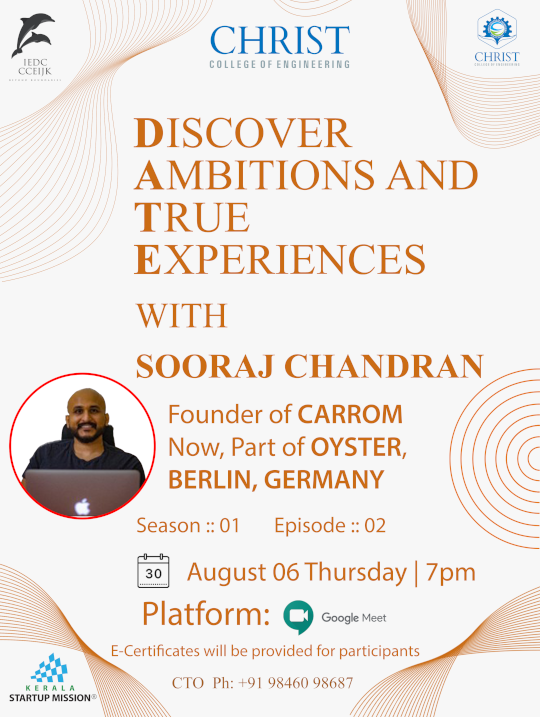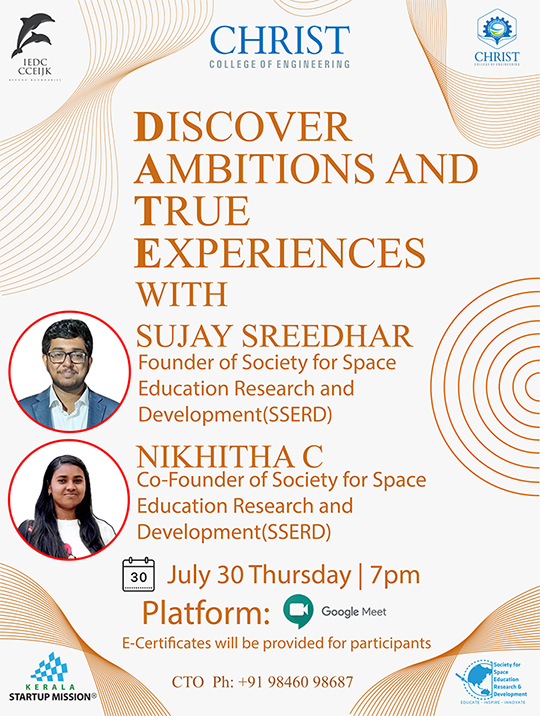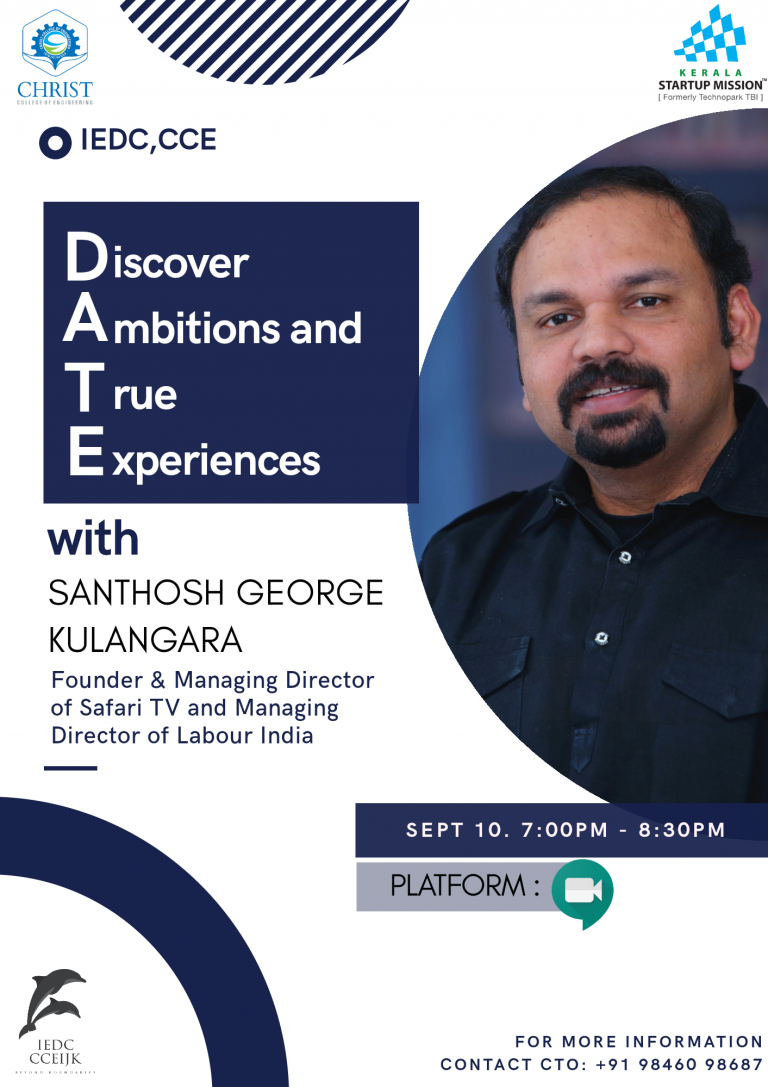 Date with entrepreneur: Season 1
The strength of the team is each individual member. The strength of each member is the team.
-Phil Jackson
Gratitude remains the highest form of appreciation and we would like to thank each and every one of you for making "DATE with an Entrepreneur season 1" a victory!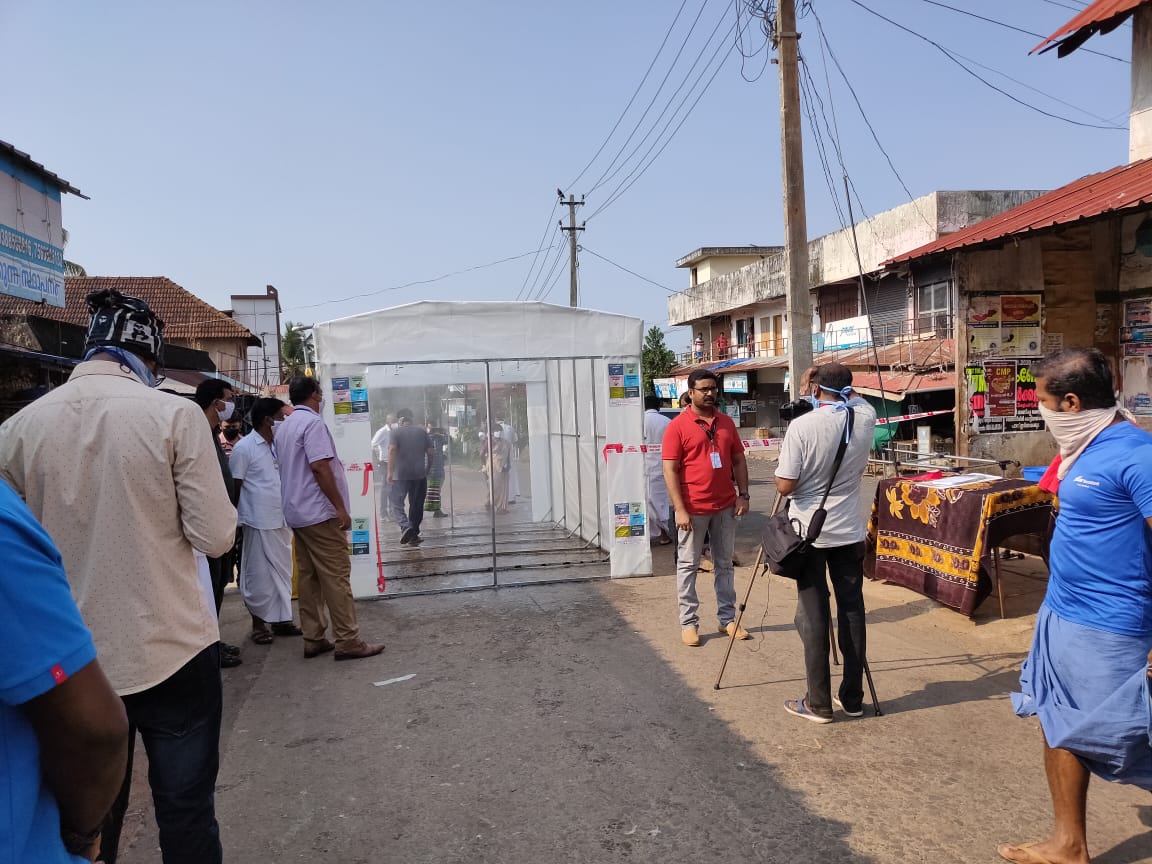 Sanitation Tunnel
April 8th, 2020
The municipality and Health officials approach Fr. John Paliakkara seeking technical assistance, to manage crowds in the market during Easter – Vishu days in the light of Covid 19 crisis.
Rest is history…
Within 12 hours on April 9th, Christ College of Engineering, Irinjalakuda, initiated a series of chain reactions battling covid-19, by installing a Disinfection Tunnel at Irinjalakuda market. Appreciated by all areas of the society- Municipality, IMA, Health Department, Kerala Police and many more, we strived to battle covid-19 and we still are …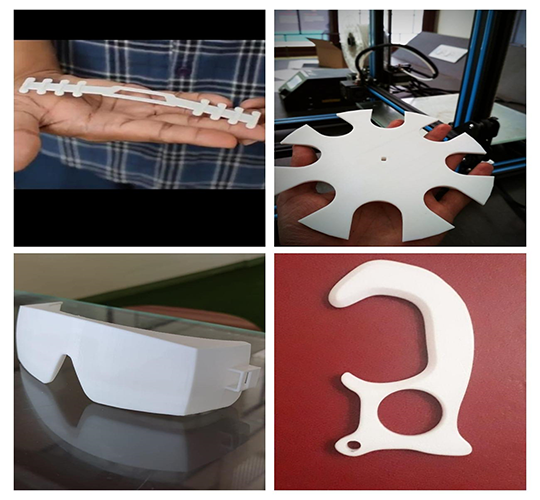 Engravers
In the wake of the pandemic, public health has become of vital importance. In response to this altering contagion circumstances IEDC CCE has devised an UV disinfection chamber for Barber shops and salons. This device assists in disinfecting the instruments used in these salons with the aid of UV light making it defended and secure for the next usage. ENGRAVERS, an affiliate of IEDC CCE,has contrived several products to support the community in this pandemic.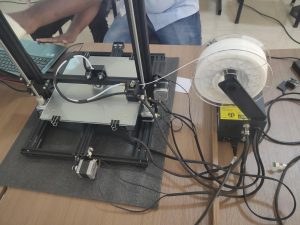 3D Printing Workshop
February 2020. The program was led by Sathish Kumar,IMIK on 3D printer assembling. The session was also led by various student coordinators on 3D printing softwares. The course offered specializations in 3D printer assembling,3D printing with 3D designs and 3D printer slicer software training. 50 students from different branches participated in the workshop. The workshop was very informative.
UV Disinfection chamber
Barber shops are one of the places where we require proper disinfection. Usage of same hair cutting instruments like scissors, trimmers and combs have to be properly disinfected before the reuse. In order to make this process efficient, the IEDC Centre of Christ College of Engineering has created a disinfection box which can serve this purpose. The product is designed and developed by IEDC members under the guidance of Rahul Manohar Sir. The cost for single unit of this disinfection box will vary from 3200- 3800 depending upon the size.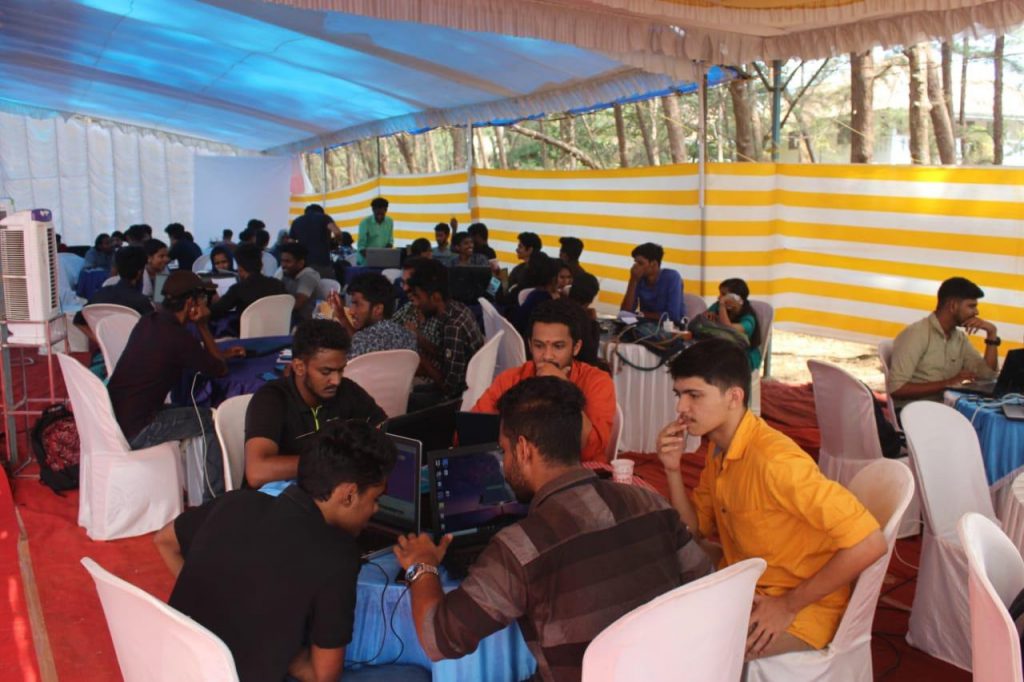 Beach Hack 2
Beach Hack 2, the follow-up of the first-ever beach hackathon of South India was conducted on the 14th and 15th of February at Azhikode, Munakkal beach. This prestigious event is conducted by the Computer Science Department of CCE and students from all over South India took part in it. The theme of the competition was "Agriculture". This competition consists of two rounds. The first round was a 24-hour hackathon to find the maximum solution for the given problem statement. Then,10 teams were shortlisted for the final round, which was the presentation round and was allotted 10 minutes for the same. Beach hack aims at bringing out the best and innovative solution for some of the problems that we face in our society.